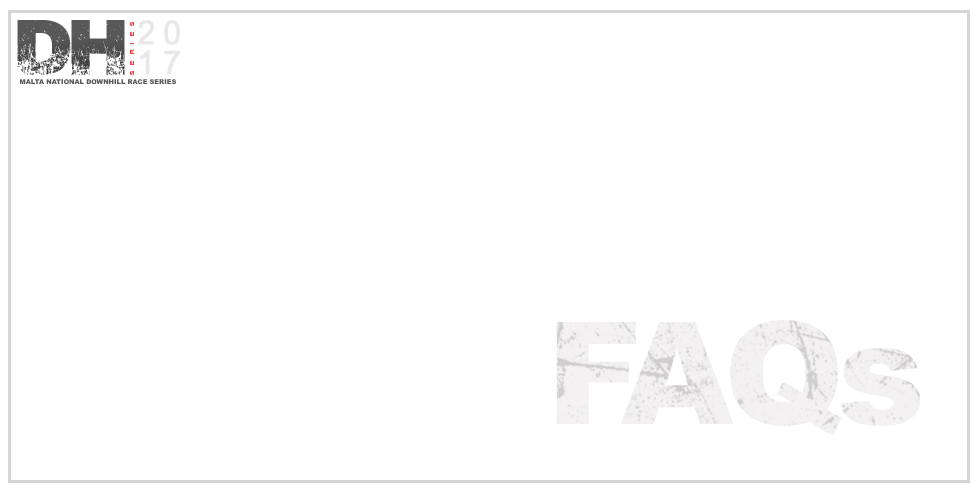 Frequently Asked Questions
Do I need an Insurance cover?
No. A 3rd party insurance cover is not compulsory when taking part in any of the series races, however it is highly recommended. This can be acquired from any insurance agency.
Do I need to be a member of MMBA?
Yes.  In order to participate in the downhill series, an MMBA membership is required.
How much will membership cost?
The cost is €10.00 which covers the yearly membership.
How do I register?
To register as an MMBA member, you will need to download and fill in the membership form. Click here to download form.
How much will it cost to register for each race?
The registration cost is €15 for each race.
Is there a discount if I register for the entire series?
Yes. A discount is given to those who apply for the entire series.  The total cost will be of €50 instead of €60.
Do I need parent/guardian permission to enter a DH race?
If you are under 18 years of age, you shall require a parent/guardian consent to enter any of the series races.
 
How exactly does the championship point system work ?
Best time from timed qualifying runs will be ranked and awarded qualifying points.
Race run time will be ranked and awarded race Points.
Points from the Qualifying round together with points from the Race will form the overall championship. At the end of the season the championship system will use the one to discard system. This means that the worst race result from each rider will be discarded.
 
The advantages of this system are as follows:
 
Since this championship is at an amateur level riders can skip a race and still have the possibility to race for better overall championship placing as the skipped race will be automatically discarded at the end of the season .
 
OK I'm interested.  How should I proceed?
Step 1 - Register with the Malta Mountain Bike Association.  Download form
Step 2 - Register for the Downhill series.
Step 3 - Get your equipment and gear sorted.  Full face helmet and Visor are compulsory.
Step 4 - Get on your bike, go train and have fun on the race trails
Step 5 - Show up on race day with your race face on at least one hour before the qualifying start time.
---